Apple iPhone 5 and 4S are the Q4 bestsellers, followed by the Samsung Galaxy S III
50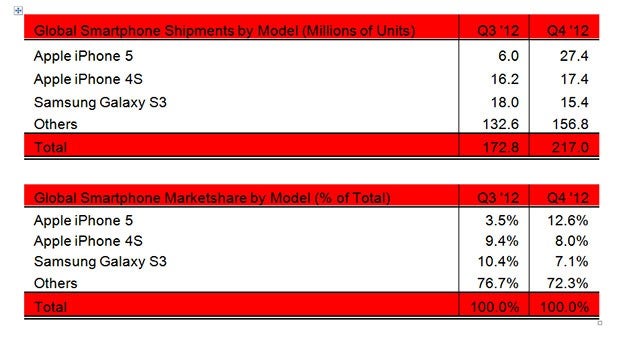 Research firm Strategy Analytics finished its fourth quarter global smartphone sales calculations, and, as usual in the last quarter of recent years, Apple's iPhone took the lead.
It was reported before that the handset has been the most popular in terms of sales in the US, but the current report looks at the worldwide market, reaching the same conclusion.
Apple moved more than 27 million
iPhone 5
units in the October-December period last year, as you can see in the tablet above, and even the
iPhone 4S
sold 17+ million, which made it go to second place. Third was Samsung's finest
Galaxy S III
with more than 15 million pieces sold. Of course, we are a few weeks away from the
Galaxy S IV
announcement, which might very well mean the tide will turn in the second and third quarter as they did last year.
"Wash, rinse, repeat" might not be the case in 2013, however, as almost every manufacturer is coming with very strong contenders - the
Sony Xperia Z
and
HTC One
come to mind from the flagships announced so far, and MWC is sure to bring more heavyweights in the ring to challenge the Apple-Samsung duopoly, which we can all only benefit from.
Strategy Analytics: Apple iPhone 5 Becomes World's Best-Selling Smartphone Model in Q4 2012

Boston, MA - February 20, 2013 - According to the latest research from Strategy Analytics, Apple's iPhone 5 overtook Samsung's Galaxy S3 to become the world's best-selling smartphone model for the first time ever in the fourth quarter of 2012. A rich touchscreen, extensive distribution and generous operator subsidies have propelled the iPhone 5 to the top spot.

Neil Shah, Senior Analyst at Strategy Analytics, said, "Apple's iPhone 5 smartphone model shipped an estimated 27.4 million units worldwide during the fourth quarter of 2012. The iPhone 5 captured an impressive 13 percent share of all smartphones shipped globally and it has become the world's best-selling smartphone model for the first time ever. A rich touchscreen design, extensive distribution across dozens of countries, and generous operator subsidies have been among the main causes of the iPhone 5's success. In addition to the iPhone 5, Apple shipped an estimated 17.4 million iPhone 4S units for 8 percent smartphone share globally in Q4 2012. Apple's iPhone 5 and iPhone 4S are currently the world's two most popular smartphone models."

Neil Mawston, Executive Director at Strategy Analytics, added, "Apple's iPhone 5 and iPhone 4S together accounted for 1 in 5 of all smartphones shipped worldwide in Q4 2012. This was an impressive performance, given the iPhone portfolio's premium pricing. We estimate Samsung's Galaxy S3 was the world's third best-selling smartphone model and it shipped 15.4 million units globally, capturing 7 percent share in the fourth quarter of 2012. Samsung's Galaxy S3 has long proven wildly popular with consumers and operators across North America, Europe and Asia. However, global demand for the Galaxy S3 appears to have peaked and Samsung will surely be keen to introduce its rumored Galaxy S4 upgrade in the coming weeks to fight back against Apple's popular iPhone range."