Apple iPhone 4S benchmark tests
51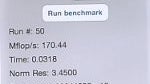 Without going into detail, we all know how fast and responsive the iPhone 4S is already by simply playing around with the handset for a few minutes. Due to the simplistic layout and operation of iOS 5, everything moves at a
responsive
rate and doesn't exhibit one shred of lag or slowdown as we quickly move around the homescreen. However, to better gauge its processing prowess, we just had to pit it up with the iPhone 4 and run a few benchmark tests to see how much better it is.
Under the hood, the iPhone 4S is packing that glistening
1GHz dual-core Apple A5 processor with 512MB of RAM
. Respectable by today's standards, some might not be all that impressed with the amount of RAM on board with the device, but then again, iOS 5 isn't the most graphically intensive platform out there on the market.
Running the
Linpack benchmark
on both devices, we're astounded by the near instant completion of the test by the iPhone 4S – while its predecessor chugs along finishing considerably longer. Specifically, the iPhone 4S is able to establish itself as the superior device between the two since it's able to push out
138.22 Mflop/s
, which is light years better than the
33.65 Mflop/s
score of the iPhone 4. And honestly, the lengthy completion of the test by the iPhone 4 goes to show the speedy nature of the iPhone 4S.
Secondly, we ran a quick graphical test by using
3D Benchmark
, which is a WWII style era airplane game test. Mainly due to the game's less than stellar graphics, the final scores of both devices are relatively close to one another. In fact, the iPhone 4S is able to complete the test in
8.294952 seconds
and chugs along at
60.16 FPS
. In contrast, the iPhone 4 dishes up a total test time of
8.699314 seconds
and an average rate of
57.36 FPS
.
Next up, we ran the Comet Benchmark app that shows an animation of a comet running through its trajectory around the sun. Initially, both are able to handle a single comet on-screen at a steady rate of 60 frames per second, but as we crank it up to the maximum 10 comets, we begin to see the raw processing power of the newer handset. Even with 10 comets simultaneously loaded, the iPhone 4S is handling it effortlessly at a consistent
60 frames per second
– whereas the iPhone 4 drops down under the
24 FPS
mark.
Last, but certainly not least, we ran the interactive and graphically intensive demo of
Epic Citadel
, which truly showcases the type of experience we'll get playing some quality games. Initially, it's very hard to find any differences in performance, but after looking at them both meticulously, the iPhone 4S is still able to produce the smoother response. It's not bad with the iPhone 4, but there's a subtle amount of choppiness with its operation.