Apple iPhone 4 users shattered by new problem
21
Just when it seemed that "Antennagate" had been forgotten, another flaw has turned up on the Apple iPhone 4, shattering the silence that its users have enjoyed over the last few months. According to sources, including some inside the Cupertino based company, using a non-bumper case, especially one that slides on to the device, can lead to major problems.
Apparently, particles from a sliding case, or other matter, can get in-between the phone and the case itself, causing some serious scratches on the rear glass of the device (you might recall that this is one of the new features of the re-designed model). Over time, the scratches can become deeper until it leads to cracking or a more serious fracture of the rear glass panel.
Once the flaw was discovered by Apple, third party cases were banned from Apple's retail chain and only this week were online sales of non-sliding cases allowed to resume. Those selling slide-on cases are totally out of luck. Apple iPhone 4 users with a cracked glass rear panel will eventually have to receive some compensation from the manufacturer as some sliding cases were approved by the manufacturer before the flaw in the glass was discovered. Some of these were sold with a "Made for iPhone" tag. As it turned out, Apple's bumper design was the best one for the phone because it did not touch any glass, only-the side of the unit.
Apple iPhone 4 Specifications
|
Review
source:
gdgt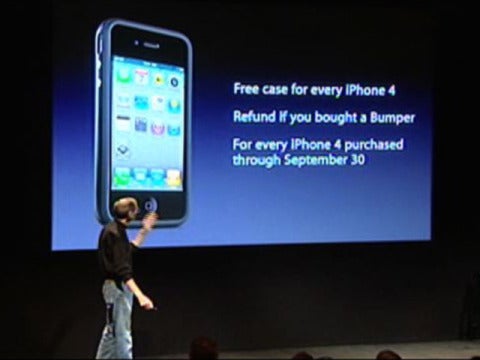 Apple's bumper case was the perfect design