Apple iPad used by Pope Francis is auctioned off for $30,000
21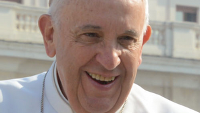 An Apple iPad used by Pope Francis was auctioned off for a whopping $30,000. The money is being used to help a school for the poor in Uruguay, where the auction took place. After the Pope used the tablet, he turned it over to local priest Gonzalo Aemilius with the comment, "
May you do something good with it."


Aemilius at first turned the iPad over to a Francisco de Paysandu high school. Attempts to auction it off through big name auction houses like Sotheby and Christie's failed, and it was turned over to a local house in Uruguay named Castells. The winning bidder was unidentified, having entered the winning bid via telephone.
The iPad has an engraving on back that reads, "
His Holiness Francisco. Servizio Internet Vatican, March 2013.
" Besides the tablet, the winner also received a Logitech keyboard and a certificate signed by Pope Francis' personal secretary, Fabian Pedacchio Leaniz. For the record, the Pope is a fan of the internet and has called it "
a gift from God
."
Thanks for the tip!
source:
NYPost
Recommended Stories