Apple iPad owner fumbles her tablet, gets run over by a train while trying to catch it
99+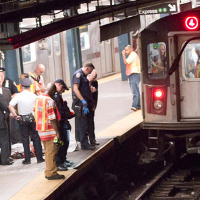 In the blink of an eye, a 21 year old woman fumbles her Apple iPad, loses her balance trying to recover it, and winds up face-to-face with a oncoming subway train. Aracelis Ayuso was waiting on the subway platform for the Number 4 train to Brooklyn, when the incident took place. The accident occurred at 3:30pm in the afternoon on Saturday, a time when there were witnesses to the gruesome accident.
When Ayuso fumbled her iPad, she attempted to catch it before it hit the ground. Doing this caused her to lose her footing as she slipped off the subway platform, and right into the path of the train. Police are still investigating, but said on Sunday that the victim had not been drinking. The cops are awaiting the results of a toxicology report.
If we can take anything away from a tragedy like this, it's that you have only one life. You might rely on your mobile devices, and feel like you can't live without them. But if your iPad hits the pavement and breaks, you can always buy a new one. Perhaps it wouldn't have mattered in this situation because it is a natural reflex to try to grab something that is falling. Ayuso just might have been in the wrong place at the wrong time.
source:
NYPost
via
RedmondPie