Apple iPad mini with Retina display takes on an MP7, and loses
21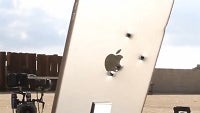 With more dramatic slow-motion video to see the impacts up close, Richard Ryan gets his hands on a new
iPad mini with Retina display
and wastes no time in putting through the normal tests, you know, water, drops on to dirt, on concrete…then shooting bullets through it.
While that last part is not a viable test in most parts of the world, it does make for some great footage especially when you can slow down the action to see the rounds rip through their intended target.
For this exercise, Ryan chose the H&K MP7A1, a lightweight personal defense weapon that fires a small 4.6mm round. The MP7, when handled properly, maintains remarkable accuracy for a system with a 7-inch barrel. Ryan breaks out his "mini me" for this exercise.
After the iPad mini with Retina display holds up to its drop tests, and folds under exposure to water, "mini-Ryan" gets up close, and unleashes some fully automatic action with the MP7 from all angles. The results are what you would expect, but the footage is still neat, even with the smaller rounds being used.
Through all the tests, we get treated to some clear slow-motion footage. You can even see the screen ripple as the iPad hits the ground.
source:
RatedRR
(YouTube)