Samsung's 'iPhone-only' display lines are idling, and Apple may compensate with iPad OLED orders
16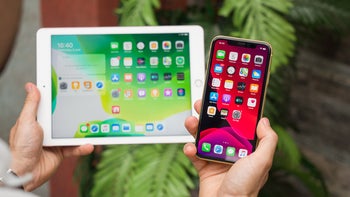 In today's edition of crazy news, Samsung is apparently gunning to be compensated for OLED panels it didn't make. Remember when Apple signed a contract for a
100 million screen panels
at about $70 apiece, making iPhone displays the most expensive part in them by far?
Those were the days when Apple hoped its "revolutionary" Face ID technology will be gobbled up by iOS users worldwide, and it jacked up the price of the first handset that had it - the
iPhone X
- to unseen heights. Fast forward to 2019, and not only the iPhone X didn't do as well on the market as predicted, but also the subsequent iPhones with OLED displays aren't selling as well as hoped for various reasons.
That leaves Apple's main OLED display supplier - Samsung - in the wind, and in the red, as it built factories and production lines specifically for the expected tens of millions of iPhones that Apple never sold. Korean media is
informing
us today that Samsung is restless about the issue, and is demanding compensation for all those multi-million screen panel contracts that have left its dedicated equipment languishing at 50% capacity for years on end now. The two companies have reportedly met numerous times to find a common ground on the matter.
It's a symbiotic relationship, though, and the industry insiders tip that it is rare for a screen maker to demand punishing fines for softish demand but rather prefer to work something out with the phone designers. In Apple's case, the solution reports are contradictory.
Apple's iPads and Macs may switch to OLED displays
On one hand, there is a claim that Apple has already paid Samsung hundreds of millions of dollars to make up for the lost business that brought Samsung Display's earnings drastically down - from $4.9 billion in 2017 to $2.3 billion last year. On the other, Apple has reportedly offered to order OLED panels for other products than the iPhone, including iPads and Macs, as a means to ramp up production, says one unnamed "industry official":
We know that Apple has offered multiple options to Samsung Display, including conditions for adopting OLEDs for other products such as tablets and notebooks.
Of course, the two aren't mutually exclusive, as Apple may have simply pre-paid for those rumored future orders. This is why we wanted to ask you whether you think that Samsung can demand compensation from Apple for built but underutilized "Apple-only" OLED production lines.