Apple iPad Air 2 unboxing
7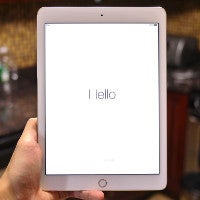 Right on cue, the iPad Air 2 arrived at our doorstep on exactly the day that Apple promised when it announced the tablet at its event not too long ago. For one, the retail box is a very familiar thing, since it pretty much follows the basic premise of iPads past. Sporting the same mostly white packaging material as before, we get a glimpse of the iPad Air 2's thinner profile through the image on the front of the box – it's actually deemed as the world's thinnest tablet, besting that of Sony's Xperia Z2 Tablet.
Removing the cellophane material wrapping around the box, we slowly lift the front of the cover to reveal the new iPad Air 2. Underneath it, of course, are the usual set of documentation, Apple decals, Lighting cable, and USB cable. Quite honestly, did we expect anything different from the norm? Nah, not really.
Briefly looking at the updated design, it's really tough to say how much thinner it is than its predecessor, unless we have the two side-by-side. Nevertheless, we can vouch that its construction is incredibly thin – mind you, it's also premium due to its aluminum chassis. We won't dive into all the specs, since we've covered it in
great detail in our own specs review
, but we'll certainly say that it continues to be the more compelling tablets in the space.
In the meantime, we're going to put it through an assortment of testing to uncover its true worth – whether it's notable enough to warrant an upgrade over last year's model. Some might fancy over the improved construction, while others are delighted by the fact that it now features a biometric Touch ID finger print sensor, but whatever the case, there's no arguing that there's a lot of buzz for this one at the moment.