Apple iPad 5 front panel leaks with narrower iPad mini-like bezel?
14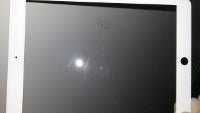 The upcoming fifth-generation Apple iPad is rumored to have a lighter and thinner body, but it is also said to become more compact using a narrower side bezel, much like the iPad mini. And now the first front panels of what seems like the next 9.7-inch iPad have leaked out with that narrower bezel and more compact dimensions.
French blog Nowhereelse known for its good track record in Apple rumors concludes this is indeed the iPad 5 front panel judging by the size of the hand when compared to the leaked component.
If that's the case, the images below would also suggest that Apple has already kicked off manufacturing of the new iPad. Does this mean the tablet will arrive anytime soon? It does hint in that direction, but it does not necessarily mean that as this could well be an early prototype.
For the time being, there are too many ifs to be conclusive about this rumor, but at first sight it looks true. Take out that Sherlock Holmes magnifying lens, and inspect the images below.
source:
Nowhereelse
Recommended Stories