Apple iPad 2 Photo Booth Demonstration
4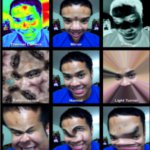 Now that there are cameras on board with the iPad 2, it seemingly opens up an entirely new category of functionality for users since it allows you to snap shots on the go. Out of the box, we find one particular app on the homescreen interesting seeing that its presence is rather foreign when looking at the original iPad, but naturally, the
Photo Booth app on the iPad 2
is only there because of the tablet's inclusion of cameras.
Quickly tapping on the icon, we're quickly transported to one mind blowing interface at first as we're struck with awe at to what's actually going on. After some fiddling around, we finally realized that the camera is active and displaying all of the photo effects on screen at once. The 9 paneled grid layout essentially provides you a preview of what the image will look like with each specific photo effect applied.
In fact, there are a total of 8 different effects, and they include things like the thermal camera, mirror, x-ray, kaleidoscope, light tunnel, squeeze, twirl, and stretch effects. Although it might seem like some kind of novel feature, much like any other third party photo editing app out there, it'll definitely provides some chucks and laughs for people who try it out for the very first time – especially with the squeeze and stretch effects. Check out the gallery and video below to see what we're talking about.