Apple gets patent for circular display that could be used for a round-faced Apple Watch
23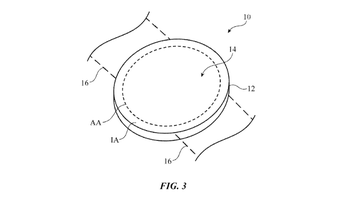 Is Apple about to offer an Apple Watch with a round dial? On Tuesday, the company received a patent for technology designed for a circular display. U.S. Patent 9965995 is titled "Electronic device having display with curved edges." As you can tell from the name of the patent, it describes a technology that could be used to produce a round display that could be used on Apple's smartwatch instead of the current rectangular display.
Judging by the images included with the patent, it would appear that Apple had a watch in mind when it submitted the application. Now, you might be thinking that this could merely be a rejected design. But since the application date of this patent is months after the release of the Apple Watch (and probably years after patents for the original Apple Watch were filed), this seems more like something that Apple could be working on now. The firm could have filed for the protection of a patent just in case it decides to offer a new Apple Watch design with a rounded screen.
The patent deals with the technology needed to fix the issues that come from a circular display. For example, rectangular pixel arrays will not efficiently fit in a device shaped like a circle. Much of the document explains how Apple plans on getting around this. It is migraine-inducing reading, but having said that, you can check out the patent by clicking on the sourcelink.
"Pixel arrays often have rectangular shapes. However, rectangular pixel arrays will not fit efficiently within a device having a circular shape. Circular displays can have bottleneck regions in which signal lines become crowded, leading to inefficient use of display area. It would therefore be desirable to be able to provide improved displays such as circular displays or other displays with curved edges."-Apple, U.S. Patent 9965995
Some of the devices that are mentioned in the patent include a wristwatch, pendant, headphone/earphone, and eyeglasses among others. Considering that Apple's AR powered glasses could be just a year or two away, the technology protected by this patent might also be used for that wearable in addition to a new Apple Watch. And since we are discussing patents that could be employed for Apple's rumored AR specs, we should remind you that last month
the company received a patent for an eye-tracking system
designed for the device that could be called "Apple Glass."
Check out some of the images from the patent by clicking on the slideshow below.
source:
USPTO