Apple enterprise market lead is giving way to Android
14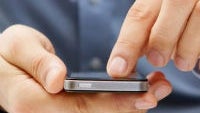 The fall of BlackBerry and the rise of bring-your-own device options in businesses has completely changed the mobile phone market for enterprise. Apple's iPhone quickly took over the enterprise space, but new data shows that lead is now giving way to Android, just as Apple did in the general smartphone market.
The data comes from Good Technology, which is a company that tracks phone activations and more from over 5,000 customers worldwide. According to the latest semi-annual report, Apple's iOS comprised 67% of enterprise device activations in Q2 of 2014. This is still good enough for a wide lead over Android, which accounted for 32% of activations, but it did mark a shift in the market. Apple dropped 5 percentage points compared to the previous quarter and Android gained that same amount. Windows Phone rounded out the numbers overall with just 1% of the enterprise market.
You'll notice that BlackBerry hasn't been mentioned, but that isn't because it has disappeared completely from the enterprise space. Rather, BlackBerry is left out of the numbers because BlackBerry devices use BlackBerry Enterprise Server for corporate email access, Good Technology cannot track BlackBerry activations. So, it is likely that the numbers laid out above are off by quite a bit, although the general ratios should be about the same. At the beginning of the year, Tim Cook cited IDC reports saying that Apple held 59% of the enterprise smartphone market and 78% of the enterprise tablet market, so Apple has a solid lead, but that lead may be slipping.