Apple earnings forecast for 2013: more iPhones, more iPads, more money
42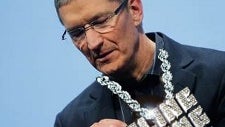 Investment company Piper Jaffray has released its earnings forecast for Apple for 2013 painting a pink future for Cupertino with 211 million reasons for that. That's right, sales of Apple devices are expected to reach the whopping
211 million units in 2013
, and the company is predicting an impressive $164 billion revenue with earning per share expected to reach $40.50, the company's financial adviser Gene Munster estimated.
Those predictions actually
beat Wall Street's projections
for earnings per share by 10% and are 8% ahead of the Street's earnings number. At the same time, Apple is projected to continue accumulating cash with $140 per share in 2013, compared to $81 as of June 2011.
"We believe the markets for smartphones and tablets are big enough to support this growth, even if Apple's ASP is significantly higher than its competition,"
Munster noted.
"Consumers have demonstrated their willingness to pay up for the best technology, and we expect this trend to continue."
Most of that
growth comes from a single product
- the iPhone, which alone is expected to account for 49% of the total revenue in 2013. Munster's analysis predicts that the iPhone will continue growing at 30% in 2012 and 29% in 2013. Meanwhile, it also differs than other in that it rules out the need for an
"ultra low end"
iPhone to sustain growth.
The
iPad, will be the second pillar
of Apple's success making up 21% of Apple revenue in 2013, growing by 39% next year and 35% throughout 2013. Piper Jaffray projects Apple shares to hit $607 in 12 months.