Apple dominates wearable market in Q1 with 53% of sales in the sector
31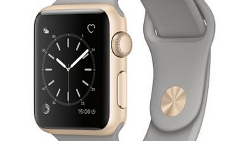 First quarter market share figures for the global wearable market have been released, and they show that Samsung is now in second place after surpassing Fitbit. Sammy's latest smartwatch release, the Gear S3, helped the company garner 12.8% of global wearable sales during the three months from January through March. Fitbit, known mostly for its fitness bands, was responsible for 12.2% of wearable sales in the period. On top of the wearable market for the first quarter of 2017 was Apple. Thanks to the Apple Watch, the tech titan was responsible for 53% of the sales recorded in this sector.
The Samsung Gear S3 has proven to be popular
thanks to its long battery life, support for mobile payment service Samsung Pay, and a dedicated GPS capability. There are actually two different variants of the watch; the Gear S3 Frontier features LTE connectivity. The Gear S3 Classic is a stylish watch without cellular connectivity, and both models run on Tizen.
Looking at actual shipping data instead of sales, Apple remained on top for the first quarter, delivering 16% of the products shipped in the wearable market during that period.
Xiaomi
, which sells the cheap Mi Band 2
, was second in shipments with 15.5% of the market. As we pointed out, Fitbit finished behind Apple and Samsung in wearable sales during the first quarter. The company also finished third in global shipments, with 12.3% of wearable deliveries made during the period from January through March.
The wearable market is still relatively new and it is way too early to pick winners and losers in the sector. But at this point, the numbers don't lie, and it would seem that Apple has taken early control.
source:
Yonhap
via
AndroidGuys