Apple claimed 57% of the smartphone industry's Q1 profits with 43% belonging to Samsung
49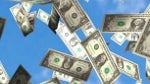 According to investment banking house Canaccord Genuity, Apple's lower profit margin on the Apple iPhone last quarter didn't change things in the industry. Apple and Samsung together continue to grab 100% or more of the profits in the smartphone industry. The latest figures show Apple with 57% and Samsung with the remaining 43% of the profits made from manufacturing and selling handsets.
Besides Apple and its Korean rival, no other company in the business is making any money other than LG which accounted for 1% of the profit in the smartphone business in the first quarter. Thanks to Motorola's -1% share of the industry's Q1 profit, it all adds up to 100% as HTC, Sony and BlackBerry each had
no profits
to report.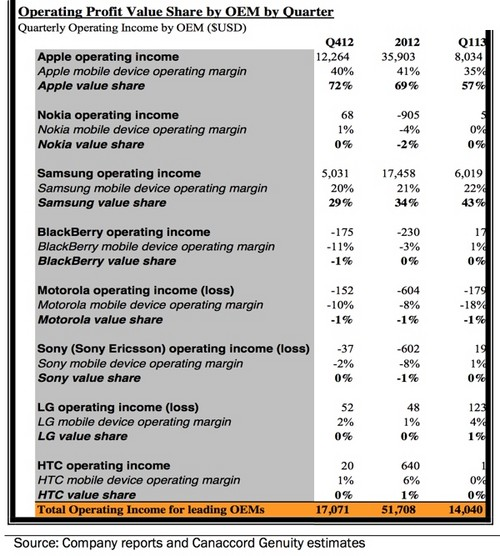 Apple and Samsung combined for 100% of the smartphone industry's profits in Q1 2013
When Samsung goes on the warpath with its heavy marketing, this reduces the bottom line. While Sammy was spending big bucks to advertise the
Samsung Galaxy S III
during the 2012 holiday season, Apple was grabbing
72 cents
out of every dollar that was dropping to the bottom line of smartphone producers.
The Apple-Samsung duopoly extends its domination even when looking at the operating margins of the manufacturers. Even though Apple's operating margin dropped sequentially to 35% in the first quarter of this year from 40% in the last period of 2012, the Cupertino based tech titan still has the highest margin on its phones. Samsung is next as its operating margin rose from 20% at the end of 2012 to 22% as Q1 came to an end. Motorola was at the opposite end of the spectrum,
losing 18 cents
for every dollar it received from smartphone sales.
source:
electronista