Apple Watch patents hint at new hardware buttons, camera incoming
48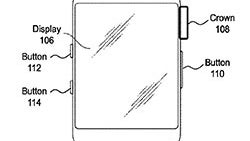 When is Apple going to release its second-generation smartwatch? Rumors of a new Apple Watch have been floating around for months, and while recent announcements have brought us
little more than new band designs and a pricing adjustment
, hope's remained high that
Apple could still get the new wearable out before the end of the year
. But assuming that it is on its way, what sort of changes could Apple have in store? A couple recently published Apple patents offer some potential insight, each addressing one possible new development for Apple Watch hardware.
One of the most pervasive rumors about the Apple Watch 2 has been the idea that Apple could finally give the smartwatch a camera. Cameras on smartwatches have proved more miss than hit over the years, but maybe Apple's just the company to show us how it's meant to be done. Potential use cases range from FaceTime video chat to scanning barcodes in stores.
The evidence here is a little light, though, showing up in a block diagram describing describing a smartwatch user interface. While this might establish that Apple is thinking about how cameras on smartwatches would work, it's a bit less than confirmation that we're actually getting the feature on the next Apple Watch. It's possible this could just be a reference to remote shutter control for the iPhone's camera, like we have now, but it feels like something more substantial.
Apple's other patent concerns crown input on a smartwatch – not unlike what we have now on the current Apple Watch. But what's most interesting isn't the crown itself, but the rest of the hardware buttons present; right now we only have a single button below the crown on the smartwatch's right edge, but this patent shows a pair of additional buttons on the left edge, as well.
Then again, we don't see any camera in this rendering – so which feature, if not both, would actually make it into the final Apple Watch 2? For now, we're not placing a ton of faith in either of these patents – companies like Apple patent plenty of designs they never end up using – but we'll definitely be looking for additional evidence on both fronts.
source: USPTO (
1
,
2
) via
Mashable