Apple Watch beats the original iPhone in terms of early adopter customer satisfaction
10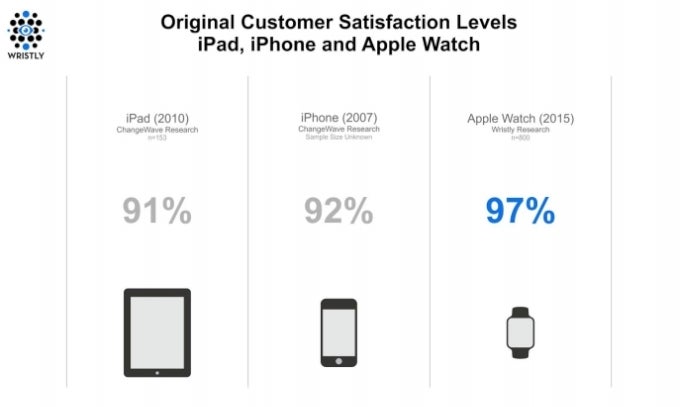 In the past few months, there has been a lot of talk concerning the Apple Watch and its performance as a device and commercial product. In the lack of official numbers, analysts from around the world
shared estimates
on the total number of units that Apple managed to put in the hands of its users. From the looks of it, the Apple Watch is not only the
most successful smartwatch
around but also a more successful product than the original iPhone. As it turns out, a recent study found that the Apple Watch is also beating the original iPhone in terms of early adopter customer satisfaction.
The survey, conducted by smartwatch-oriented research firm Wristly shows that despite negative reviews in the tech media, the Apple Watch has managed to satisfy early adopters, especially the non-tech users among them. According to Wristly, 34% of the 800 Apple Watch participant users are tech insiders, 53% of them are non-tech users, 9% are app builders, and the remaining 4% are media representatives.
The results show that 66% of them are delighted with the smartwatch while 31% of them are only somewhat satisfied. 2% of users said that they are neither satisfied nor dissatisfied, and just 1% said that they are somewhat dissatisfied by the Apple Watch.
Overall, the customer satisfaction index (CSI) provided by the study is one of 97%, which is above the CSI of the original iPad (91%), and that of the original iPhone (92%).
As some may have anticipated, the study found that non-tech users are generally more delighted with the Apple Watch compared to tech insiders and that App Builders manifest only limited excitement towards Apple's first wearable device. This may change once app builders gain the ability to develop native apps on the Watch.
Given the relatively small scale of the study, the numbers are not likely to be perfectly representative of the total population. However, the study seems to show that despite the bad press surrounding the Apple Watch, the general user population is satisfied with the wrist piece. What do you guys make of this, why is there a sizeable discrepancy between how tech and non-tech users feel about the Apple Watch?