Apple Store picking up share from Best Buy and others; San Francisco store gets green light
8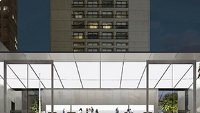 Ok, so
Radio Shack is closing 1100 stores
. And Best Buy has lost some of its leading retail electronics market share over the last four years. But Apple has actually seen its stateside share in this category rise from 3.8% in 2007 when the
Apple iPhone
was launched, to 15% last year. The entire U.S. retail electronics segment has seen sales decline from a peak of $109.9 billion in 2007 to $95.9 billion last year. Considering the amazing growth of the smartphone and tablet market during that time period, who would have expected to hear that?
Speaking of Apple Stores, the company has just received the green light from the San Francisco Board of Supervisors, to go ahead with plans to start its new flagship store in San Francisco. This will require the demolition of a standing building on the site. A two-story glass facade will be the main feature of the new store, allowing those passing by the store to get a good look at what is going on inside it. There will also be two giant 44-foot sliding glass doors and a waterfall in the back.
Back in June, we told you how the city of San Francisco's Planning Department
had forced Apple to make changes in the design of the store
. While Mayor Ed Lee originally praised the design of the store, he later said that he didn't realize that an iconic statue made by artist Ruth Asawa would have to be demolished. The sculpture, which depicts the history of San Francisco in 41 plaques comprised of bronzed baker's dough, will be moved ten feet into the plaza allowing the art to survive.
The mayor must still sign off on the final plans, and if construction starts immediately, the store can open in the spring of 2015.
source:
EuroMonitorInternational
,
MarketWatch
via AppleInsider (
1
), (
2
)