Tiny device, huge panic: overheating iPhone 6s Plus battery causes evacuation of Apple Store in Zurich
34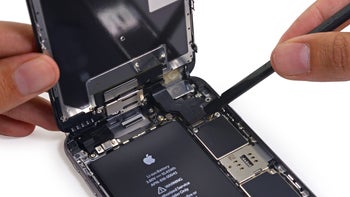 In recent times, we've been hearing a lot about faulty batteries. Li-Ion cells have always had the occasional lemon, which will have a chance to melt down — and it's a bummer when it happens to your device. But with the increasing amount of smartphone users around the world, and with phone manufacturers trying to cram larger capacity batteries into tighter devices, it's no surprise that this is now... a hot topic.
Additionally, Apple has come under scrutiny for the way it handled the aging batteries in its own iPhones — it
throttled performance
to reduce the strain on a degraded battery. It's not necessarily the fact that Apple chose this course, but the fact that it hid this information that caused the controversy. But at least the company apologized for the miscommunication and has offered
$29 battery replacements
as an atonement.
This has probably caused an influx of customers, flooding Apple Stores to have their batteries replaced. Well, if not flooding, then at least come in in greater numbers. With them, come a huge number of degraded batteries — some less safe than others.
It was in the Apple Store in Zurich that one such battery caused a huge fuss. Apparently, an Apple employee was in the midst of removing a battery from an unnamed device when the cell caught fire and puffed out huge amounts of smoke. As a result, about 50 people — customers and employees alike — were forced to evacuate the store and a fire truck, police car, and several ambulances were dispatched.
No worries, though. The employee that was working on the device only suffered a minor burn on their hand and, while 7 people were given medical treatment on site by the ambulance staff, none of them were hospitalized. According to police, the Apple Store staff reacted timely and appropriately by sprinkling quartz sand over the tantrum-throwing battery and maxing out the facility's ventilation to have it suck out the smoke.
Update:

It has been revealed that the device was an iPhone 6s Plus
source:
20min
(
translate
)