Apple's iPhone topped Singles Day sales in China; Samsung placed eighth
33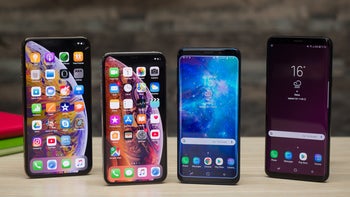 Apple iPhone XS and Samsung Galaxy S9 devices
China's Singles Day is the biggest shopping day of the year – people spent a whopping $30.8 billion yesterday – and is typically led by Chinese companies such as Huawei and Xiaomi when it comes to smartphones. According to a new
report
, though, it was actually Apple that led sales this year.
No specific numbers were provided when it comes to units sold or total revenue. However, it was confirmed that Apple's various iPhone models proved so popular yesterday that Huawei was pushed down into second place, followed by
Xiaomi
in third. Moreover, Apple was listed as one of 237 brands that surpassed the 100 million yuan ($14.36 million) sales mark during the 24-hour period, although the company's total revenue number is likely higher.
Moving down the list of brands that proved popular yesterday,
Samsung
placed eight in the smartphone segment. The company has seen a big sales decline in China over the past few years and most recently held just 1% of the smartphone market. More recently, though, the company began revamping its strategy in the market and hopes to continue increasing sales over the coming months and years.
Although Samsung's numbers may not come as a surprise to many, Apple's positioning during the sales day is certainly good news for the brand. After all, the company has once again been plagued with reports of
weaker-than-expected sales
.
Recommended Stories