Apple News Format gets new features for publishers
2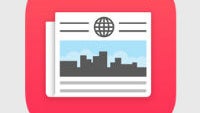 Apple News has had something of a rocky start. Apple and publishers have had some issues with ad revenue and basic traffic metrics, because it's unclear just how many people are actually using the app. But, Apple wants to make things a bit better in some ways, mostly by letting publishers have more freedom in how their channels look.
Apple is giving publishers new Map and Place components to let authors display locations relevant to the content, including adding pins to highlight especially important places. Additionally, publishers will have complete choice of the cover artwork used for their channels. Previously, only special Apple News partners would be able to do this and everyone else had to hope Apple pulled good images from articles for the cover art. Lastly, publishers have more control over adding older posts without making them appear as though they had just been published live.
In general, the updates look like they should help publishers take advantage of Apple News more. How much that will help publishers is still up in the air though until Apple convinces users that Apple News is a better option than one of the dozens of news apps already on the market.