Apple Music trial may shrink from three months to just one
1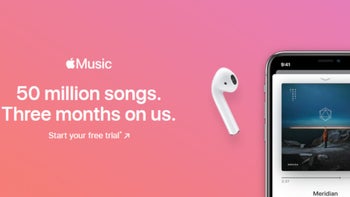 One way for music streaming services to expand their subscribers base is through trials. Offering their services for free for a limited is a great way to convince potential subscribers whether or not a service suits their needs.
Apple is one of the not so many companies that offer a generous 3-month trial to those who want to try out its music streaming service. However, the situation might change, according to a report by
MacRumors
.
A new banner published on Apple's
page for accessories
offers a one month free trial of Apple Music instead of the standard three-month free trial. It doesn't look like this is a mistake, but it's possible that Apple will start offering 1-month trials in addition to the usual 3-month trials.
If you click on the banner, you will get the prompt for a three-month free trial in iTunes, so that's encouraging. Also, Apple hasn't yet officialized the move on the Apple Music website, so it remains to be seen whether or not this a mistake or the company plans to change the duration of its Apple Music trial.
Recommended Stories