Another image of the Nokia N8 gets leaked
This article contains unofficial information.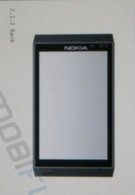 After some
spy shots
revealed what is to expected with Nokia N8, yet another one manages to offer some more truth to the speculated handset. This time around, it looks like we are being treated to a leaked shot of the Nokia N8 that's heard to be a render from an official Nokia document – it does match the prior actual shots we have seen. This 12-megapixel handset is already garnering a lot of attention as it's expected to make some huge waves for Nokia's high-end spectrum. The touchscreen only affair is supplemented with some angular edges that distinctly separates itself from the other usual mix of smartphones that tend to follow the curved and smooth designs. Despite some
rumors pointing to a delay in its release
, there will still be some anticipation building up to its launch if it does prove to become a truly compelling handset.
Nokia N8 Preliminary Specifications
via
Electricpig