Andy Rubin says post-Jobs Apple won't lose step, "the DNA is in the people"
9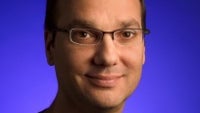 After an intense late night unveiling of Android 4.0 Ice Cream Sandwich and the GALAXY Nexus, Andy Rubin, the main man driving Android development and former Apple employee, went on stage at the AsiaD: All Things Digital conference.
Among the topics discussed was Apple's post-Steve Jobs era and how will the company change after that.
"Will Apple lose step with Steve's passing? I don't think so,"
said Rubin.
"The DNA in the people walking the halls at apple is a very powerful combination of the arts and computer science, and I don't think that's changed with Steve's passing. That combination of creativity and computer science, it's still there. Apple will certainly miss Steve's leadership, but now its time for the other guys to step up."
Andy Rubin was with Apple for three years from 1989 to 1992 as a manufacturing engineer, but later he also worked for another three years in an Apple spin-off, General Magic, where he developed an OS and UI for mobile devices, so he definitely knows a thing or two about the Apple "DNA." Do you agree with him, or are the weaker-than-expected financials Apple just announced a sign of a future decline?