Android's snazzy Chameleon launcher is updated to version 1.1, brings many enhancements
6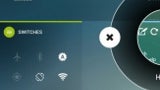 The Chameleon launcher, initially started as a Kickstarter project, is quite different from most other launcher offerings in the Google Play store. It has a fresh user interface which can change the look of your device dramatically, and it also packs a bunch of cool ideas to improve the organization of your features.
So, this fancy launcher has now been updated to version 1.1, which has added a number of important features. First of all, the launcher can now display the ordinary Android widgets. Before that, it could only use the special Chameleon widgets, which were few, but designed specifically for the styling of the launcher. Secondly, the Calendar and Twitter widgets have been updated to make them more advanced and functional, and finally, v1.1 also brings an updated Chameleon Widget SDK, for those who'd like to develop Chameleon widgets for the launcher. Of course, there have been other more or less important improvements made in the latest version. For example, the devs have managed to improve the launcher's performance, polish the user interface and fix a great deal of bugs.
The only major downside of the launcher is that it costs the hefty $10, which will definitely put a lot of users off, but on the other hand, that's the price of being cool and different.
Download Chameleon Launcher for Tablets
here
.
via:
AndroidCentral