Android software updates: Are you happy with your manufacturer?
63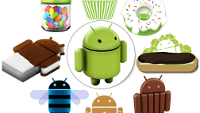 If you are looking forward to getting the latest Android 5.0 Lollipop update on your device, rest assured that you're in good company. According to the latest stats, published by no other than Google itself, Lollipop powers less than 0.1% of the world's Android population as of January 5th. That's a shockingly small share, and it underscores a serious issue with the platform – that of software versions fragmentation.
With the exception of a few Motorola and Nexus devices, most of us are still stuck on Android 4.4 KitKat or lower. That's a bit disappointing, as Lollipop is likely the single largest update to the OS in its history, so, naturally, everyone wants a piece of it. The size of the update, precisely, is likely what is causing delays over at manufacturers' software divisions, as they all need to re-make their proprietary interfaces in order to comply with the new Material Design guidelines. After that, your carrier needs to certify those new firmwares for use on its waves, and that's an equally time-consuming task. But it's not
just
about that – after all, some companies aren't as serious about swift updates as others.
So, with the above in mind, would you say that you're happy with your manufacturer and the time it requires to push a new update to your device?