Android is one step closer in seeing a SkyFire browser?
This article contains unofficial information.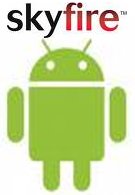 Today Android users can slowly breathe in some fresh air as the platform is one step closer in seeing the reality of the SkyFire browser coming. It's nice to see some Android handsets supporting multi-touch, but there is just one area that all available browsers on the platform miss – their inability to play both Flash and Silverlight content. So far SkyFire has proven to be a versatile browser for Windows Mobile and Symbian S60 users. SkyFire announced today that they've acquired kolbysoft, makers of the popular Steel browser for Android, for an undisclosed sum of money. One of the main reasons for the acquisition was to to obtain "talent" – specifically kolbysoft's skill at building on top of WebKit. With that in mind, its presumable to say that Android users can expect to look forward to see some kind of incarnation of the SkyFire web browser. Although development was well underway, SkyFire didn't make any confirmations on how far along the project was at or when to expect a tentative date – this new move may clear a path for an eventual release some day though.
via
MobileCrunch