Android and iPhone platforms getting two new features for Gmail

We've come to enjoy the wonders of fine tuning things in order to make life a bit more simple. For the many that rely on Gmail for the emailing needs, users expect a swift and seamless experience when they load up Gmail on their web browser. The case is true with Google releasing two new features last week for users using the web-based Gmail on an iPhone or Android powered handset.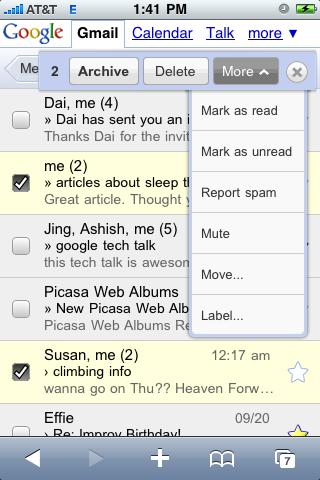 The "Move" function allows you to label and archive a message in a single step so your fingers won't need to work out as much as it used to in the past. You can locate this new feature under "More" in the top bar of the web-based application. The other new feature is "Enhanced Refresh" which is probably more useful - especially on the iPhone. It allows the Gmail inbox to auto-refresh whenever you go back and forth from Gmail to another application or tab. If your phone is in sleep or standby mode while Gmail is open, it'll refresh when you wake it up. If you prefer using your web browser to check Gmail on your handset, then these two new features may just make life a bit easier for you – if not, then you might as well set up your email using the standard email application on your phone.
via
Cell Phone Digest