Android Nougat updates coming to the HTC 10, One M9, and One A9
7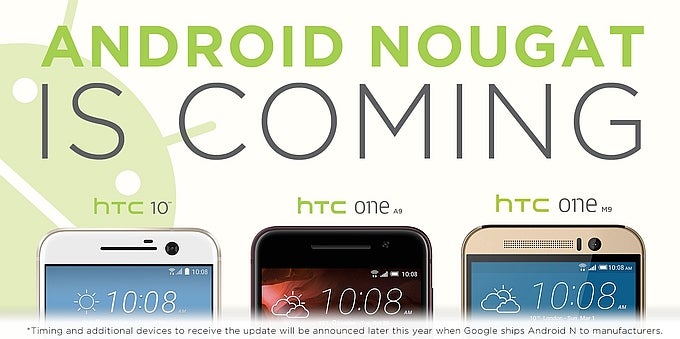 A few hours ago, HTC confirmed that the Android Nougat update is on its way to the HTC 10, the One A9, and the One M9.
Shortly after Google announced that
Android N will be officially called Android Nougat
, HTC took to Twitter to announce that at least three of its current smartphones will get an update to the new Android version at some point in the future.
Since the
HTC 10
is the company's current flagship smartphone, it comes as no real surprise that the phone will be updated to Android Nougat.
The
HTC One A9
launched with Android 6.0 Marshmallow on board in a time when only few smartphones outside of Google's Nexus series were running it. Now, since the One A9 was a smartphone that aimed for the sub-premium segment of the market, many users might have worried that the phone will be left behind on Marshmallow. Fortunately, that is not the case.
The third and last HTC smartphone that was confirmed to get Android Nougat is the One M9, the Taiwanese manufacturer's flagship phone for 2015. This one launched with Android 5.1 Lollipop, was updated to Android 6.0 Marshmallow in the meantime and is now getting ready to receive it's second major Android update. Most likely, it will also be its last.
HTC says that it could eventually launch the Android Nougat update for more of its phones. Unfortunately, however, we'll have to wait until Google launches the source code of Android Nougat to manufacturers before getting to know more.
The big question now is the release date for these updates. HTC has yet to mention any specifics, but we remain optimistic that Nougat will make its way to the unlocked flavours of the 10, the One A9, and the One M9 before the year's end. Last year, Marshmallow reached unlocked HTC One M9 units in late December, so we know that it's possible.

What do you guys think? Is anyone surprised to learn that HTC can only confirm an update to Android Nougat for just three of its phones?
Recommended Stories