Android Lollipop testing for Sony Xperia Z3 and Z2 to start this month (at Vodafone)
19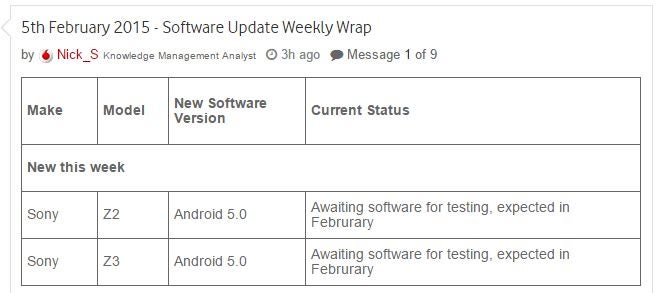 Sony already made it clear that its entire line-up of Xperia Z smartphones and tablets would
get Android 5.0 Lollipop
. Unfortunately, no update has been released yet.
Not long ago, we heard that both the
Xperia Z3
and
Xperia Z2
would be updated in February (i.e. this month). Vodafone Australia is now confirming that it's expecting Lollipop to arrive for testing on the Z3 and Z2 this month - though this doesn't necessarily mean end users will get it before the month's end. But at least it's a sign that things are moving in the right direction.
Besides the Z3 and Z2, the following Sony devices will also receive Lollipop updates (hopefully starting the next few months): Xperia Z, Xperia Tablet Z, Xperia ZL, Xperia ZR, Xperia Z1S, Xperia Z Ultra, Xperia Z1 Compact, Xperia Z2 Tablet, Xperia Z3 Compact, Xperia Z3 Tablet Compact, and Xperia Z3v.
Manufacturers like Samsung, LG, Motorola and HTC already updated some of their smartphones to Android 5.0, so Sony should really try to hurry things up.
source:
Vodafone Australia
via
Xperia Blog