Android 5.0.2 update reportedly rolling out to Moto G (2014) units in the US
13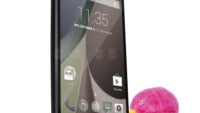 Almost a month since Android 5.0.2 was
released
for the original
Nexus 7
tablet, the update is now making its way to handsets, as users across the US are reporting an OTA push to their Moto G (2014) units.
Google isn't being very vocal about what's new in the 5.0.2 patch, but changes seem to be generally minor. Most notably, the way Android handles alarms has been reworked, making sure that the OS will wake up the CPU when it has a scheduled event, and that, if there are two alarms setting off at the same time, they will not fight each other over resources.
Another notable change tweaks how Android's TRIM process functions. Quick explanation – automatic TRIM support was introduced with Android 4.3 Jelly Bean. It is a process that fires up overnight (when phone is connected to charger) and cleans up pathways to deleted files in the phone's storage, making sure that the NAND flash doesn't get bogged down by redundant information. If you are one of the people that actually charge their phone during the day, you probably found a problem in that previous sentence – "overnight".
Luckily, Google is now fixing this oversight, by changing TRIM's activation conditions – the process will now trigger after a fresh phone bootup, but only if TRIM hasn't been activated for a few days. This should give a whole new meaning to the "rebooting your phone to make it faster" vogue.
Whether the update will be hitting other handsets any time soon is, as always, a mystery, but we'd dare wager that
both
generations of
Moto X
and the original
Moto G
will be getting it soon(ish). As far as other manufacturers are concerned – you know the deal – it's the waiting game.
via:
Phandroid