Android 5.0 Lollipop factory images for Nexus 5, 7 and 10 are now live, here's how to update
14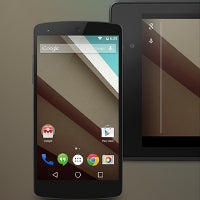 Behold Nexus earthlings, the
Android 5.0 Lollipop
factory images are finally here, just as speculated. After releasing the
Nexus 6
officially yesterday, and
announcing
that Android L will grace the
Nexus
5
,
7
and
10
in the coming days, the folks from Mountain View uploaded the actual factory images for these devices for everyone to get their hands on, and start experimenting.
Android Lollipop brings many visual improvements, such as a new Quick Settings panel, a card-based notification system, and so on, but most of the significant changes, such as the new 64-bit guts, are actually under the hood. If you are too impatient for waiting the OTA update to hit your trusty Nexus gear, here's what you need to do to sideload the Lollipop firmware:
1.
Download the Android SDK
, disguised as Eclipse ADT Bundle from Google. This is the software that makes communication between your computer and your Android device possible;
3. Run the SDK manager, check Google's USB drivers, and uncheck everything under Android 5.0 as you won't be needing emulators. The "Android SDK Tools" and "Android SDK Platform-tools" checks can be left for updating to the newest editions;
4. Back up the stuff you need on your Nexus gear, and put your device in Fastboot mode by turning it off, and then holding volume down+power (or volume up + down + power on some devices);
5. Unzip your factory image and put its contents in the "Platform Tools" directory of the SDK that you installed, so that the "flash all" files end up in the same folder that contains the file "fastboot."
6. Connect your phone or tablet to the computer, while it is sitting in the Fastboot screen, and see if at the bottom, at the LOCK STATE line, it says "locked" or "unlocked". If it says "locked", we will need to unlock the bootloader, so that we can install the Lollipop factory firmware. Choose the "fastboot oem unlock" option, and pick "yes"on the next screen by navigating with the volume key, and choosing with the power button. Bear in mind that this will wipe all your data;
7. If the phone booted in the welcome screen, restart it in Fastboot mode again, then using the command line, navigate to the respective Android SDK/platform-tools folder, then type: flash-all.bat for the flashing tool to start updating your Nexus to the newest Android 5.0 Lollipop. Now you just need to wait a looong time, then your device will be brought kicking and screaming to the newest Android version.