Android 3.1 Honeycomb Hands-on
10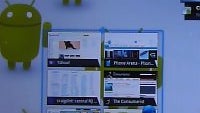 Continuing to show how Google is committed to improving its platform, the
Android 3.1 Honeycomb update for the Motorola XOOM
managed to land our way – as opposed to the "
coming weeks
" that was attached to its roll out. Naturally, we're a little bit anxious to check out all the new features of this latest version of the tablet-optimized platform, but fortunately for us, the installation process didn't take that long to complete.
First and foremost, the update brings forth
USB hosting support
, which means that you can connect and use a variety of USB peripherals with the tablet; like a mouse or keyboard. However, seeing that the Motorola XOOM only has a microUSB port, the process isn't as easy when compared to some of the other Honeycomb tablets out there with dedicated USB ports. In fact, you'll need to purchase a separate
microUSB to USB adapter
in order to use peripherals with the XOOM, but nonetheless, the feature is there for you.
Visually, nothing dramatic has changed with the layout of Honeycomb on the Motorola XOOM, but now you have the
ability to resize certain core widgets
to your liking. Certain ones like the bookmarks and Gmail widgets are capable of being resized by simply executing a long press, and manually moving its border to specific lengths. Definitely not something new, especially when Motorola's very own MOTOBLUR utilizes this unique feature, it still provides a little bit of personalization. Over time though, we'd expect to see other widgets gaining the ability to be resized as well.
Before, clicking the Recent Apps button in the System Bar would normally display up to 7 of the most recent apps, but this time with Android 3.1 Honeycomb, you'll be able to actually
scroll
through the entire set. Therefore, if you open 10 different apps or more, you can scroll through the listing and easily switch between any of them – as opposed to previously being limited to the 7 most recently used apps.
Lastly, the introduction of
movie rentals in the Android Market
is the last new feature found with the updated platform. Supplementing their apps and books offerings, we now find a section devoted to movies where you can browse through a variety of videos that you can rent. In terms of pricing, rentals start at $1.99, with new rentals costing a little bit more at the starting price of $3.99 each.
As we mentioned already, it's not a dramatic overhaul to the Honeycomb experience that we've been accustomed to seeing, however, the update has
yet to activate the XOOM's microSD card slot
– meaning, we're unable to use it for additional storage capacity. Moreover, we're still seeing the unusual
instances of choppy performance
when navigating across the XOOM's homescreen and app panel while in
portrait
. Nonetheless, it still boasts some reasonable qualities that improve the experience, and looking towards the future, we're equally excited about the platform's continued growth.