Analysts don't see a future for Windows RT
43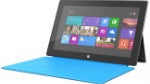 Ever since the first word about Windows RT, no one was quite sure what to make of it. The price point for the tablets wasn't terrible, but there didn't seem to be much as far as positives for the platform. RT isn't as fully realized a platform as Windows Phone, and it doesn't have the legacy support that you would find in Windows 8. So, it shouldn't be much of a surprise that analysts don't expect RT to last too long.
According to IDC's Bob O'Donnell, "Windows RT breaks the core value proposition of Windows," which is based on legacy support for apps. Wes Miller of Directions on Microsoft said that he doesn't "see a long-term viability for Windows RT as a value-driven strategy" because the app ecosystem isn't strong enough to attract customers. And, Gartner analyst Carolina Milanesi said that she doesn't expect Windows RT to ever be a real competitor to Android or iOS, and while it will likely stick around "for now", the future is murky.
The analysts expect that Microsoft will try to make another push with Windows RT devices running on
Tegra 4
processors after
Windows 8.1
is released, but based on the current sales numbers, it doesn't seem likely that RT has that long of a future.