Analyst thinks Microsoft will launch its web-glasses in 2014
21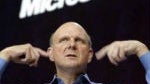 First off, we'd like to apologize because our Photoshop skills are not up to par, and as far as we can tell, Steve Ballmer is the one person who hasn't had a pair of Google Glass shopped onto his face yet. Still, the story remains that an analyst has said that he believes Microsoft will launch its own web-enabled glasses as soon as next year.
If you remember, we heard about the
Microsoft glasses
via a patent filed by the company last year. At the time, Microsoft's glasses were nothing more than web-enabled specs that were meant to be worn at live events in order to get some augmented reality information piped to your eye holes. We were hesitant at the time to call such a limited-use device a "competitor" to Google Glass.
Analyst Brian White hasn't made any guesses as to the functionality of Microsoft's device, but we would home the ideas have expanded since that patent. The only guess Brian was willing to make was that Microsoft would release the device in the first half of 2014.
Brian went on to make the wild claim that we have never heard anywhere else before, especially not with all of the stories about smart watches and Google Glass going around, that Glass is going to kickstart something of a revolution in wearable technology. Way to go out on a limb there, Brian.