Analyst: Samsung Galaxy S5 sales may disappoint in the first three months
45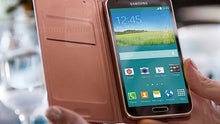 Samsung's Galaxy S4
was a major hit last year. The South Korean company sold 20 million units worldwide in the first three months after the handset's release. Will the new
Galaxy S5
match that performance? According to IM Investment & Securities analyst Lee Min-hee, who was quoted by Reuters, S5 sales may "fall short" of the 20 million Galaxy S4s sold in the first three months.
One of the reasons for this could be the fact that all three South Korean mobile carriers have been banned from launching new smartphones for periods ranging from March to May. For example, KT (the country's largest carrier) will not be able to add new customers, and neither sell handsets to existing ones from April 5 to May 19. Thus, when Samsung releases the S5 on April 11, it won't be able to properly sell it in its home country. Of course, South Korea only accounts for a rather small portion of Samsung's global smartphone sales. Even so, Lee Min-hee believes that the Korean carriers ban plus "a lack of sweeping hardware improvements" will likely affect initial Galaxy S5 sales.
We must mention that more than 70% of South Korea's population (50 million) owns at least one smartphone. The country's mobile carriers are being banned from introducing new devices because they broke local regulations by subsidizing more than $250 from the cost of their phones.
Earlier today, Samsung announced that customers buying the Galaxy S5 would
receive $600 worth of mobile content and subscriptions
. It remains to be seen if that's going to helps sales.