Amazon's iPhone app now allows you to see what's in your package without opening it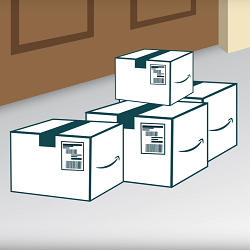 Now that we're more than halfway through November, a great deal of you will likely soon start your big holiday shopping spree if you haven't already. We've been covering all of the latest deals and sales that have been popping up, and one company that continues to offer awesome savings year after year is none other than Amazon. However, in addition to the tremendous savings that they're already offering, the company has just updated their iOS app with a new feature should come in handy for ordering gifts this holiday season.
The new feature is called "Package X Ray", and it's actually pretty darn cool. Package X Ray allows you to use your iPhone to scan your packages when they arrive to see what's inside of them without having to open them, and Amazon couldn't have picked a better time to introduce a feature like this. To use Package X Ray, simply open the Amazon app on your iPhone, touch the camera icon, then the Package X Ray option, and use the viewfinder to scan the barcode that's present on your Amazon package. Once the barcode is scanned, you'll get a pop-up on your phone showing you everything that the package contains. Multiple items in one box? No problem. The app allows you to select specific items inside of the package and then see full information on it, such as how much you paid, when you placed your order, and more.
Privacy certainly is an issue with something along these lines, and in their YouTube video that they posted to announce the new feature, Amazon says that, "No, you won't be able to peek inside the boxes that aren't for you." We don't know if this means that only the buyer will be able to see the contents or if anyone that's connected to that Prime account will be able to, but rest assured that strangers won't be able to come up and scan your packages to see what's in them.
The update's already hit my iPhone, and it should be arriving to yours soon if it hasn't already.