Amazon unveils Kindle Unlimited, the 'Spotify for books': unlimited reading for $9.99 a month
5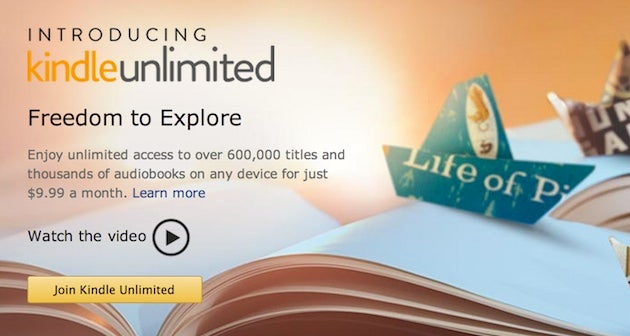 Just a day after teasing an all-you-can-eat e-book subscription service, Amazon has made it official: the name is Kindle Unlimited and it offers access to around 600,000 books and some 2,000 audiobooks for $9.99 a month.
Kindle Unlimited, a service dubbed Spotify for books, will work on all devices - iPhone, Android, and others - and not just Kindles. It's worth noting, though, that while Amazon has struck deals to have popular titles like Harry Potter, Lord of the Rings and the Hunger Games, it has nowhere near as rich a catalog as Spotify has for music. The 600,000 titles definitely do not cover the millions of books, offered in the full Amazon catalog, and we noticed that Nobel Literature Prize laureates, for instance, were mostly poorly represented.
To sweeten the taste, though, Amazon offers a free 30-day trial at start to lure readers in, and it's also gifting a three-month subscription to Audible.
Amazon Kindle Unlimited is right now not truly unlimited when it comes to its availability - users only in the United States can subscribe at the moment.