Amazon one-ups Nokia's online store by selling the E7 for $649 in the US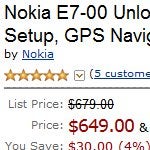 Time after time, we've seen Amazon do some miraculous things when it comes to pricing for handsets that literally just made it onto the scene, and again, they prove their worth with the Nokia E7.
Yesterday,
Nokia's online store in the US
finally placed their coveted flagship, the E7, on their lineup with the staggering price of $679 – which is one mammoth premium to pay in order to experience the very best. However, Amazon comes along on its merrily way to slightly dip its pricing for the same smartphone to only
$649
. Sure it's only a
$30 difference
between the two sellers, but in this day and age, that $30 can go very long.
Still, if you prefer being faithful, you might want to stick with buying it through Nokia's online store. But for the rest of you, especially the frugal ones out there, your best bet is to pick it up with Amazon. And of course, you'll be saving yourself a cool $30 with it.
source:
Amazon
via
Engadget