Amazon may release 3 Kindle tablets this year, no 10" model
7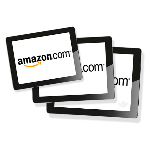 The rumors on this one keep bouncing back and forth with very little consistency, so either Amazon is really good at keeping secret its plans for upcoming Kindle tablets, or is really bad at it, and has to make up for that by leaking false info to confuse us all. Either way, it's working because we have no idea what is going on.
There have been a few reports stating that Amazon would be releasing a
10" Kindle Fire tablet
, and also some reports pointing towards an
8.9" Kindle Fire tablet
. This time, the report out of Taiwan is claiming that Amazon is preparing 3 new tablets which will be released at some point this year. Word has it that Amazon will release a low-end 7" model with a 1024x600 resolution, a mid-range 7" with a 1280x800 resolution, and a high-end 8.9" tablet with a 1920x1200 resolution.
LGD and Panasonic are said to be the manufacturers of the flat-panel displays for the 7" devices, while Chimei Innolux will supply the 7" touch sensors, and Prime View will supply the 8.9" displays.
We really don't know what to believe at this point, but the one relative constant has been that the larger version Kindle Fire tablet should be out in Q2 of this year, which would mean that we'll get an answer within the next three months.