Amazon has the HTC Inspire 4G for $59.99, the HTC Freestyle for a penny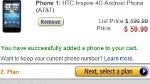 Amazon is at it again, offering absolutely gorgeous new generation phones at a price that's usually associated with some very limited dumbphones.
The latest handset to get the Amazon treatment is the newly released
HTC Inspire 4G
, which, as of now, is available for $59.99 for new customers, while existing AT&T customers will have to pay the not-so-hard-on-the-budget price of $69.99.
These are great deals any way you look at them, since the HTC Inspire 4G packs some impressive specs like a 4.3-inch Super LCD display with 480 x 800 resolution, a Snapdragon MSM 8255 processor clocked at 1GHz, an 8MP camera and 768MB of RAM.
Also, Amazon offers the BREW MP-based
HTC Freestyle
for a penny for new customers, while for existing ones it costs $19.99. The AT&T price for these two handsets is $99.
source:
Amazon
and
Amazon
Thanks, Emanuel!