Amazon Kindle Fire HD 8.9" gets taken apart: lots of Samsung inside
4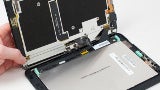 The
Kindle Fire HD 8.9"
has just come out, and naturally, this means one thing - it's time for it to be taken apart! This important task has been undertaken by PowerbookMedic, who have performed a rather disciplined teardown of the new tablet, discovering some interesting facts along the way.
First of all, it's been revealed that a good number of the components inside are made by Samsung (
not Sam Sung
). The RAM and flash memory modules, as well as the battery have all been manufactured by the South Korean behemoth. An interesting thing about the battery seems to be that it's actually a dual-battery design, consisting of two separate cells, connected via a battery controller board. Apparently, such kind of approach isn't really common today. One of the theories is that it's been done this way in order to save precious space.
One of the most important things that we learn from this "take apart" is that the 8.9" version of the Kindle Fire HD should be pretty easy to repair, as most of the components are attached to the back side, rather than the front. This allows for the easy removal of the screen part. It should still be taken into account, though, that the LCD and digitizer are fused together.
source:
PowerbookMedic
via
Gizmodo