Deal: Get three of Amazon's Echo products at a sweet discount today!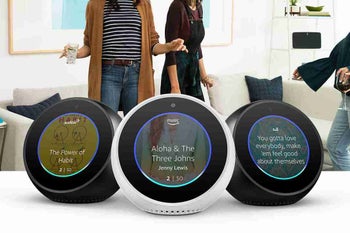 Are you in need of a smart speaker? Did you just feel an urge to buy a new piece of tech to place in your bedroom, living room, or kitchen? Hurry up then, as Amazon is running a sweet discount on three of its Echo smart speaker products – Snow, Plus, and Spot, which are all powered by Amazon's Alexa smart assistant
Amazon Echo Spot - $103,99 (20% off)
The Echo Spot is the smallest of the three. It has a 2.5-inch screen, which may seem small, but is more than enough to show you the clock, play some music, or whatever else you might ask of it. It can even show who's at the front door, in case you have a security camera installed and connected to the Echo Spot. To complement the screen, the Echo Spot has a 1,4" speaker, which is not the loudest you've ever heard, but will do its job well when you talk with Alexa. You can place the Echo Spot wherever you want, as it comes with its own stand.
Amazon Echo Plus - $119,99 (30% off)
What may seem like a pepper mill at first is actually quite the good smart speaker. The Amazon Echo Plus features a unique design and comes in three different colors – black, gray, or white, so you can fit it in every room you want, matching the aesthetics perfectly. The Echo Plus doesn't have a display, but compensates that lack in the audio department, featuring a Dolby-powered tweeter and 360-degree audio capabilities, which guarantee a well-sounding experience.
Amazon Echo Snow - $159,99 (30% off)
Do you remember the digital picture frames, which were somewhat of a go-to Christmas present some time ago? Well, the Echo Snow might remind you of just that, but don't be deceived by the looks, as it is way more than a digital frame. The Alexa-powered, 7.7-inch smart screen is a perfect choice if you are a video content lover, as you can watch movies, TV shows, and news as much as you like. The Echo Snow is powered by an Intel Atom-x5 processor to make the experience as smooth as it can be. It also features a 5MP camera, so you can video chat whoever you want. There are also dual 2" stereo speakers, so you enjoy your audio experience, too.