Alltel teaming up with nuTsie to bring iTunes content to phones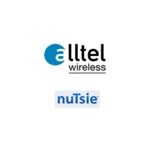 Alltel Wireless today announced that it will be teaming with nuTsie, a service that allows users to listen to their iTunes content on over 10 Alltel Wireless handsets. With the service, Alltel customers will be able to share their playlists with other users online as well as on their mobile devices. The nuTsie application will be available for $4.99 a month, or $19.99 for one year, and can be accessed by visiting Alltel Shop located on the handset.
In the press release, Alltel detailed their reasoning for the launch. "Our customers are now relying on their wireless phones to provideentertainment as well as reliability," said Kristi Crum, director ofmultimedia content for Alltel Wireless. "The launch of nuTsie willmaximize the music capabilities on their phones so they can now easilylisten to their favorite music from iTunes, no matter where they go."
The nuTsie application is developed by Melodeo, and is available on a wide range of Alltel devices including Motorola's RAZR V3m and V3C; KRZR K1m, RAZR V9m, ROKR Z6m; LG's AX565, Wave, and AX8600; and Samsung's Muse, Hue, and Wafer.
Source:
Alltel