Alien vs Predator game coming in November to iOS and Android
2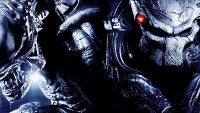 The Alien versus Predator movies and game have been such an integral part of the entertainment industry in the last few years that we can't really say we're surprised to see developers from Angry Mob Games take up the idea and announce an Alien vs Predator game for both iOS and Android coming in November.
In a classic Unity-powered third-person action-adventure game you can take the role of either the flesh-hungry alien or predator looking for its human prey. The game takes you through 21 different levels, switching the perspective between that of an alien and predator, and it comes with a bonus of new abilities for those who play best.
The controls are the standard virtual stick in the bottom left and simply two action buttons on the right. Don't expect a very complicated story – it'd be all about the hacking and slashing, and the gorgeous graphics. Speaking of which, the upcoming game will be optimized for the iPad's Retina display, but it would also run on older hardware like the iPhone 3GS, with a few special effects compomises.
Alien vs Predator for Android and iOS is coming in November and while we don't know the price, we feel that it won't stop us from playing, how about you?
source:
PocketGamer
Recommended Stories