Alec Baldwin gets booted out of an AA flight for playing Words with Friends on his iPhone
22
The star from 30 Rock and other decadent TV appearances Alec Baldwin got in trouble yesterday for his addiction to Zynga's Words with Friends game.
He was playing the game on his iPhone while waiting for an American Airlines flight to depart, but dismissed the flight attendants' usual annoying warnings to turn off all cell phones and other electronic equipment before takeoff. Needless to say after a short heated argument with the flight attendant, he was booted out of the flight, and had to take a later one.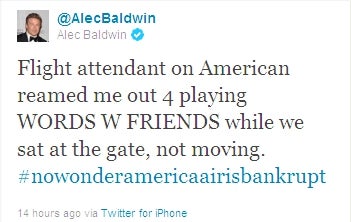 Alec complained on its Twitter feed about the incident, and received a bunch of sympathy from followers. Zynga also chimed in, saying that the word A.B.S.U.R.D is worth at least 11 points on Words with Friends. Zynga is waiting on a $1 billion IPO, so it couldn't resist the free publicity. Alec ended up the tweets exchange with the news his user name for the game is now #theresalwaysunited. Fun stuff, and there is more of it on his Twitter feed.
source:
AlecBaldwin
(Twitter) via
AllThingsD