Alcatel OneTouch Pixi 7 hands-on: Android tablet on the cheap
1
Cheap compact Android tablets are aplenty at the moment, so there's enough variety for consumers to choose from based on their specific needs. Alcatel has been making strides in gaining precedence in the coveted high-end segment, but they're not one to hide away when it comes to the lower-end market. No doubt trying to compete against the horde of affordable Android tablets that are out and about, the Alcatel OneTouch Pixi 7 is gunning to give is close rivals some heated competition.


Design
Let's get straight to the point here. There's nothing flattering about the Alcatel OneTouch Pixi 7 from what we can see at the moment, despite being a pre-production model and all, since its design is flat and downright boring. Although its housing is constructed from matte plastic, giving it a pretty clean appearance, it's the sturdy kind that elevates its build quality – though, for only a tiny bit. Following suit like other 7-inch tablets, it's very comfortable to hold due to its compact form factor.
Its power button and volume keys are positioned in familiar locations on the right
edge
, but Alcatel strayed a little bit from the norm by putting the microUSB port on the top edge – along with the 3.5mm headset jack of course. Interestingly, it's housing an IR blaster there as well, which is an extra amenity we wouldn't otherwise expect to see in a cheap Android tablet. Oh yeah, there's also a microSD slot hidden behind a plastic flap on the left edge to supplement its internal storage.
Playing around and holding it, we can't say it's the most magnificent thing we've seen – more so when others before it, like the Google Nexus 7, raised the bar in what we expect.
Display
Low end specs are expected for a device like this, so don't expect anything sharp looking with this one. Bearing a 7-inch 960 x 540 (qHD) TFT display, its washed out looks combined with its less than detailed display makes it a scary thing to behold. Sheesh, even tilting it slightly causes heavy distortion – resulting in colors appearing extremely washed out in tone. Frankly, there's a threshold for everything, but knowing what came before it and what's on the horizon, it's disappointing that it couldn't have been blessed with something a little better.
Interface and functionality
Before diving into the software, it should be noted that the pre production model we checked out came right from R&D, so its software was super buggy. That's just something we expect. Running what appears to be a stock Android 4.
4.2
KitKat experience, there are several weird glitches in trying to maneuver around the software – though, it's more than likely we'll be seeing some kind of customization, much like the other new stuff being announced from them. Going off on that, Alcatel's customized Android experience is pretty light in terms of content and features in comparison to its rivals, which can be perceived as a good or bad thing depending on who you talk to.
Processor and memory
Cheap means cheap, so it's not a shocker that it's powered by a dual-core 1.2GHz processor with 512MB RAM. Due to its pre-production nature, we see some heavy performance glitches right away – again, it's not something all that unexpected. Let's just hope that the final product at least gives us a smooth performance with basic tasks, since we know, it's highly unlikely to be a high powered thing to handle intensive gaming.
It's not enough for multimedia heavy folks, especially with only 4GB of internal storage, but people can sleep knowing it can be supplemented thanks to its microSD card slot.
Camera
Usually, affordable Android tablets omit cameras, so it's to our amazement that this one is outfitted with not one, but TWO cameras. Don't hold your breath, though, seeing that they're measly sized 0.3-megapixel ones – front and back! They're not there to snap the most detailed shots, but instead, they're simply tacked on to give us that option of snapping something if nothing else better is present.
Alcatel One Touch PIXI 7 hands-on gallery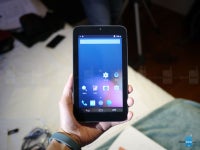 Expectations
The big talk from Alcatel about this one is about its "
ultra-low cost
." However, they've neglected to give us
insight
into its actual pricing, so we're going to have to wait before that information comes out. In the meantime, there's nothing terribly special at the moment that would catapult it over other affordable Android tablets. Then again, if they decide on being extremely aggressive, where there's a possibility of this reaching the sub $150 mark, it might have enough oomph to potentially raise a few brows.