Alcatel OneTouch Fierce XL with Windows 10 hands-on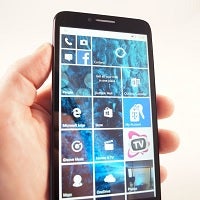 One of the more interesting announcements made just ahead of CES 2016 was Alcatel's debut of the ONETOUCH Fierce XL with Windows 10. This device is significant in a number of ways. First, it is the company's first Windows device running the new Windows 10 operating system. Second, it is an exclusive with T-Mobile. Finally, it happens to be the first Windows device offered by Team Magenta in a fairly long time.
True to form of Windows devices, the spec sheet does not need to read with top-shelf components to enable smooth operation and a packed feature set. The ONETOUCH Fierce XL with Windows 10 will mate that hardware to what is expected to be a very affordable price which is the main push with Alcatel's announcements this year at CES.
Since launching its direct sales campaign last year, the company has heavily expanded is customer support and has been taking the feedback received from customers to heart as it rolls out the newest array of devices which will serve emerging and developed markets alike.
Design

The Fierce XL with Windows 10 is an unassuming, yet clean design. It does not depart from the conservative design language of other Alcatel handsets. Its dimensions are not outside the realm of other devices with displays that are consider the larger side of normal nowadays.

This device features capacitive buttons for navigation rather than on-screen buttons that might be found on other budget friendly devices.
Display
The 5.5 IPS display with a resolution of 720 x 1280 pixels is not racing to be in first place on the spec-sheet, but given this device will be sold at a very budget friendly price point, it is difficult to complain about that. The display looked detailed enough to discern enough detail throughout the screen.
Processor and memory
Running the show of the ONETOUCH Fierce XL with Windows 10 is a quad-core Qualcomm Snapdragon 210 CPU tuned to 1.1GHz, plenty of power to handle all the basic tasks and enable smooth flow that has always been a hallmark of the modern-era Windows mobile platform. There is 2GB of RAM, plus 16GB of expandable storage.
In a special nod to Alcatel, the company also provides an estimated "user accessible" storage figure, which is estimated to be about 11GB. This is an example we would like to see other manufacturers follow.
Interface and functionality
The Windows 10 interface is largely the same as it has been for many years. The tiles provide dynamic notification and can be customized in various sizes throughout the home screen. One area where Windows phones have always excelled is in not compromising so much, the feature set of entry level phones were basically the same as though of the top end devices, with changes made on the hardware side.
Cameras
The main camera on the Fierce XL with Windows 10 is an 8-megapixel sensor that can capture 720p video at 30 frames-per-second. On the front, a 2-megapixel camera.
Pricing, release date, and expectations
If the price of the ONETOUCH Fierce XL with Windows 10's Android-powered sibling, the
ONETOUCH Fierce XL
, is any guide, the Windows powered handset will likely be available for under $150 at full retail. Alcatel did not provide an official release date, only told us, "soon." However, talk around the campfire seems to think that T-Mobile will have the new Windows 10 device on sale within the next few weeks.
Where this device shines is the fact that entry level specifications manage Windows 10 pretty well. Updates will be provided by Microsoft directly, and when that value proposition is made with what is sure to be a budget-friendly price tag, the ONETOUCH Fierce XL with Windows 10 shows that is has a lot to offer.
Alcatel OneTouch Fierce XL with Windows 10