Alas, the new iPhone will not look like this sexy design concept
38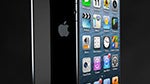 Despite the fact that Apple hasn't even announced the iPhone 5 yet, the multitude of leaks have given us a pretty good idea on what to expect. And what we can expect is a phone that will share almost all of the same design language of the iPhone 4/4S, but with a taller screen. With this year's model already a seemingly known quantity, French design company NAK Studio has created a concept design for a much larger design refresh, something along the lines of an iPhone 6.
In their concept design NAK Studio suggests a fairly major departure, moving the home button from the place it has long held at the bottom bezel to the side of the device. Doing so allows them to push the screen up into the size range of the Galaxy SIII without making the phone nearly as large. Of course removing the bezel could lead to accidental touches of the screen as you hold it, so they address this somewhat by rounding the edges of the phone – almost akin to the iPhone 3G/3GS, albeit cut off by a flat iPhone 4/4S back.
The result is something that's very new and different, yet still feels distinctly "Appley". It's probably too radical of a design change to actually come to fruition, but it's sure lovely to behold.
source:
NAK Studio
via
Pocket-Lint
Recommended Stories