Al Gore of global warming fame says "new iPhones" are in store for next month
81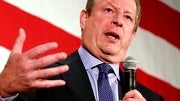 Yes, it's the superimposing figure of former Vice President Al Gore talking at a summit in South Africa, who had said "
Not to mention the new iPhones coming out next month. That was a plug
".
Now what is the man, who invented global warming and the Internet, doing disclosing such precious gems of proprietary information we don't know, but the guy does sit on the Apple board of directors, and South Africa is far enough that he likely didn't care if anyone noticed.
One attendee of the Discovery Invest Leadership Summit, Toby Shapshak, noticed, however, and relayed his words to Associated Press.
It might have been a slip of the tongue or inadvertent error, or he simply meant "the new iPhone's coming next month", but that shouldn't prevent anyone from the blogosphere to dip again in the frenzy over having
multiple iPhones announced on October 4 by Tim Cook
.